April 2017
In this edition of Landcare NSW's Bulletin…
…we share news, events and opportunities which we trust will be of interest to you and your networks. We encourage you to forward this to your networks.
TIME POOR? 
We've done all the leg-work for you: be confident you have the RIGHT insurance at the LOWEST price, without the running around!
Landcare NSW have launched their new Membership & Insurance Portal – check the website for more information.
Check your Policy Exclusions!
Make sure you know what your insurance covers you for and what is not covered.  Read the policy documents, there should be information about exclusions in these.  If you are still unsure then check with the insurance broker.  Don't assume that you are covered, even things that seem standard Landcare activities like pest animal baiting and 2 day events may be exclusions with some insurers (BUT NOT OURS!).
To see the exclusions for Landcare NSW insurance policies find the policy documents in the Membership & Insurance portal and view page 14 of the Personal Accident for Volunteers policy, page 14 of Public & Products Liability and page 23 of Association Liability.  Check the FAQs on the Landcare NSW website.
e-Leaders Advocate and Influence Program
The National Rural Women's Coalition is pleased to announce the launch of the 2017 e-Leaders Advocate and Influence Program.This seven (7) week program will deliver an introduction to advocacy and influence in the context of issues and causes related to rural, regional and remote Australia. All sessions will be held in a virtual classroom. Online support will be provided to assist participants to develop an advocacy plan. The program is free and limited to 20 places.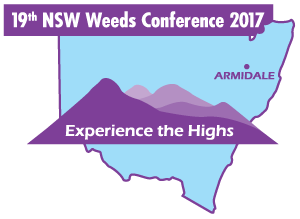 19th Biennial NSW Weeds Conference
The conference will be held at the prestigious University of New England campus, Armidale from 16 – 19 October 2017.
The Conference is a unique opportunity for the State's weeds professionals and related industry representatives, researchers, market and industry analysts, government officials and policy makers to showcase their work, network ideas and share in a vision for the future of the weeds industry. The theme of the Conference is "Experience the Highs – working smarter together". More information here. 
AUSTRALIA'S ENVIRONMENT EXPLORER
Have  you seen ANU's Australia's Environment Explorer tool! Find mapping with soil types, run off, rainfall, tree cover and more!! Click here to access the site.
TELL US WHAT YOU THINK
We are always looking for ways to improve this e-news Bulletin, we would love to hear from you, please email your suggestions to Cassie atcprice@landcarensw.org.au 
Thanks for reading!
Give Landcare a Voice on the Local Land Services Boards
In 2017 the Local Land Services will hold elections for locally elected board members. Nominate to be on your local LLS Board here.  You have until 10 APRIL 2017.
Be sure to vote for your choice of Board Member! To be eligible to vote, you must be the nominated occupier of a rateable landholding and be sure you enroll to vote through the Local Land Services website. You have just a few days, until 31 MARCH to ENROLL. For more information call Local Land Services on 1800 795 299, visit your local office or visit their website.
FUNDING AVAILABLE!
Landcare Australia Ltd currently have Habitat Restoration Grants available for Landcare Groups! Apply for up to $10 000 by 17 APRIL 2017. Click here for more information.
Shine a light on the Invisible Farmer
The ABC is calling for tributes to the women who work the land – the contribution they make to their farm, their community and agriculture in general. These tributes will be featured on the ABC and will become part of the Invisible Farmer Project, which is the largest ever study of Australian women on the land.
Head to the ABC Open Website and upload a photo and a 500 word tribute to a woman who works the land. These tributes should acknowledge and celebrate the diverse, creative and vital role that women play in agriculture and farm communities across Australia.
Let your passion take flight with a Churchill Fellowship
The prestigious Churchill Fellowshipaward is presented to more than 100 ordinary Australians each year, allowing them to travel overseas to meet with industry and community leaders, to gain knowledge and experience for the benefit of Australia.
ONLINE SAFETY WEBINAR
SafeWork webinars are an interactive online learning experience hosted regularly by industry experts on trending work, health and safety topics. By getting involved you can enjoy the benefits too, just like the 26,000 workers and businesses who have listened to a webinar so far.
FUNDING AVAILABLE!
Jobs for NSW is supporting and expanding the startup ecosystem across NSW through grants for high-potential new businesses and partnerships with incubators and accelerators.
NSW Travelling Stock Reserves State Planning Framework 2016-2021 released
Recently approved by the Local Land Services Board of Chairs for public release, available on their website.
A related research paper looking at TSRs in the Murray catchment "More than just a Long Paddock: Fostering native vegetation recovery in Riverina Travelling Stock Routes and Reserves"available here. 
WANT GREATER FACEBOOK REACH?
Got a great Landcare stroy to tell? Landcare NSW can display it through our facebook page, either email us the information, tag us (@LandcareNSW), send us a facebook message or post your news to our page and we will share it to our audience. Our post reach average is around 5000, so you will be reaching 5000 additional readers with your news. We would love to hear from you, please email your stories to Cassie atcprice@landcarensw.org.au.